Continuing Life Ledger's series of conversations with people that are shaping today's bereavement sector, we spoke with Kate Tym and Kate Dyer founders of The Coffin Club.
LL: Tell us a little bit about your background and how you came to find yourself in the death/bereavement sector?
K&K: Both of us were working for East Sussex Registration Service as marriage registrars when we met. We left to become Independent Celebrants and decided that, in order to have year-round work, we really needed to conduct funerals as well as wedding, baby-naming and renewal-of-vow ceremonies.
Dealing with someone's end of life felt like a new type of responsibility, which we took very seriously. We felt we needed to start with some training which, to be honest, we didn't think was all that brilliant. It seemed very formulaic, something we would encounter again.
LL: How did Coffin Club start?
K&K: Very quickly, literally within a few services each as funeral celebrants, we turned to each other and said, 'Is this the kind of funeral you'd want?'. We really couldn't believe how much of a sausage machine the funeral industry could be. How 'one-size-fits-all' the sector's approach was.
As celebrants we would go to lots of lovely wedding venues, so we started talking to them about hosting funerals, with the coffin there, followed by the 'do'. After some initial squeamishness they could all see it made clear economic sense, if nothing else, and they all jumped on board.
We went skipping off to our local funeral directors to tell them the good news and ask if they'd offer other settings for funerals to the families they work with and they all said 'NO!'. When we asked why not they said, 'well no one's ever asked us for a different setting.'
Which felt disingenuous to us. No one had ever asked because no one knew it was an option. If funeral directors weren't going to tell people, we were – so, Coffin Club was born.
LL: What is the main aim of Coffin Club.
K&K: We want Coffin Club to get people talking about death, dying and funerals in a way that feels completely normal and helps to educate and empower them to have exactly the kind of send-off that is right for them or their loved one, not settle for a pre-prescribed package.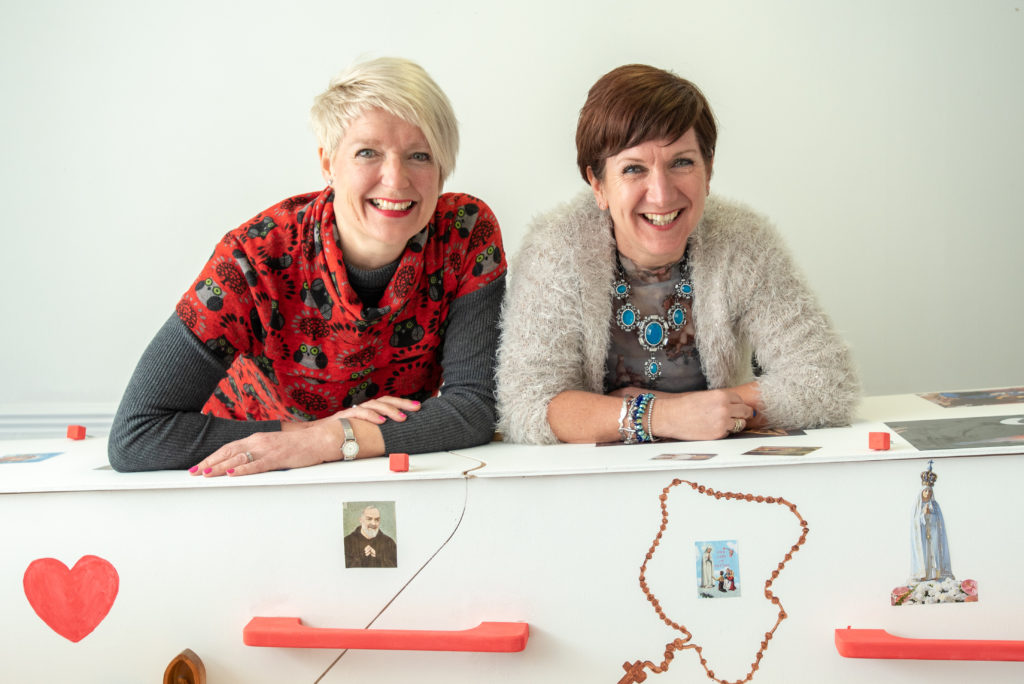 LL: What have been the biggest challenges Coffin Club has faced to date?
K&K: Being a club that focuses on death and funerals in a country that is famously uptight about things that involve big emotions! People are scared that Coffin Club will be morbid or upsetting or that we're some kind of weird cult.
Once they realise we're very normal and that we're just trying to normalise talking about death and, that Coffin Club is actually a lot of fun, they quite quickly get on board.
LL: What do you feel have been Coffin Club's biggest successes to date?
K&K: We have grown from being just one Club in Hastings lots of clubs all around the country and it's growing all the time. People who come to Coffin Club say how they wish they'd known all the stuff we teach them when their mum/dad/sister died. They have retrospective remorse over the funeral they could have had.
If we can prevent this happening to anyone else going forward, that's a huge success for us.
LL: Where would you like to be in 10 years?
K&K: Our aim is to make talking about your final send-off and planning it so normal that Coffin Club doesn't even have to exist anymore.
We want 'alternative' funerals not to be seen as alternative, just to be seen as a normal choice along with church, other religious settings, or crematorium.
LL: What do you feel is the single biggest issue currently facing the death/bereavement sector?
K&K: It may not be the single biggest issue but, as funeral celebrants, we think the funeral-director-as-gatekeeper model really doesn't work best for families or for celebrants.
This is one of the things we are working with other funeral celebrants to change and working with families to let them know they can go directly to the celebrant of their choice and that celebrants can offer a much wider degree of support than funeral directors currently 'allow'.
LL: Which other organisations/people really impress you I the death/bereavement sector?
K&K: We love an end-of-life doula! How wonderful to be able to have someone to walk with you through this most stressful part of life and offer you and your family whatever degree of support you may need. They are able to help families tend to their dead immediately after death and, in some cases, help them to keep a body at home after death.
Time is such an important factor in the grieving process and end-of-life doulas can help families to have that time with the person they love, after the die, and that is just an incredible gift to give.